Based on the technology of ReRAM SSD forthcoming
SSD though can be stacked layers to increase the single grain capacity, but as the layer number increasing, the number, the more need of silicon perforation manufacturing difficulty increase, not only the production cost is high, the roa also cannot be guaranteed, and some have deep storage technology company has already begun to explore a new generation of nonvolatile memory.In addition to the Intel 3 d XPoint flash memory outside of the principle of the unknown and hot ReRAM, this is a kind of resistance to record data of nonvolatile memory, large capacity per unit area, read and write speed characteristics, and in this study for many years Mobiveil united Crossbar will launch the SSD based on ReRAM, add new vigor to storage market.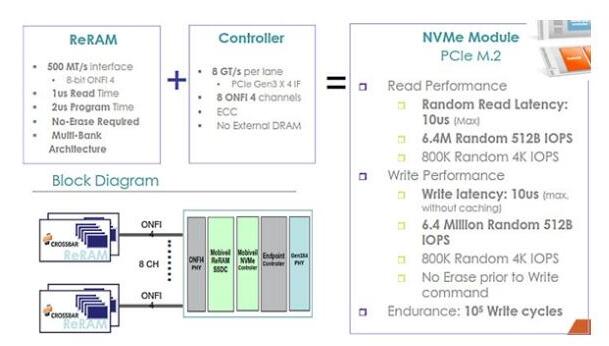 ReRAM memory is actually a kind of resistance model, is a way to describe the relation between electric charge and magnetic flux of a new element, is also a kind of nonlinear resistance has the memory function, can not only through their own memory of charge quantity, can also by excitation control of current or magnetic flux to change resistance size, and the resistance changes in the power to save quite a long time.
Single today is actually an elongated device, with three layer structure, contain upper and lower electrode and switch in the middle of the floor, and by applying different electrode voltage value can change in the middle of the special structure of the resistance value, so as to achieve data storage function (resistance value representing 0/1 or more multiple data).Its stability is very good, with the ordinary flash particles do not have extra wide temperature tolerance value, and 40-125 ℃.After one million times to read and write cycle, data under 85 ℃ can keep ten years don't disappear.
And the elongated structure can be easily formed into large-scale array, simple structure makes the storage capacity, density than existing flash memory technology, easily implement TB storage granules.
Also because of its simple structure, it is also extremely simple, the master development of existing Mobiveil 's NVMe, PCIe, DDR3/4 master can be well adapted to ReRAM architecture.
But Mobiveil, Crossbar said ReRAM SSD is not leather, in the name of the current SSD because it at least in the short term is not civil consumption level, but for business application solutions, because now ReRAM although SSD performance index is first-class, but the production cost is very high, even more expensive than NV - DIMMM, like Intel's pride is at a loss in selling.
So Mobiveil and Crossbar ReRAM sales direction, potential customers are the same as the Intel 3 d XPoint flash disk Optane, and actively develop to equilibrium price and the performance of the products, the continued development of the company.