Samsung Likely to Unseat Intel as Top Chip Vendor
TAIPEI — Samsung Electronics is poised to unseat Intel as the world's largest semiconductor company this year based on sales, as South Korea's electronics giant benefits from strong demand for memory chips, according to market research firm IC Insights.
Intel, which has held the lead since 1993, is expected to fall to second place after Samsung in the 2017 sales ranking, with the two separated by a $4.6 billion gap, according to a report from the market research firm. The jump in sales by Samsung, the world's largest memory-chip maker, is primarily attributable to soaring DRAM and NAND flash prices, the report said. Samsung first emerged in the top spot during the second quarter this year, displacing Intel during that period.
Surging memory prices are also helping SK Hynix and Micron, which are expected to make the biggest moves in IC Insights' 2017 top-10 ranking from the 2016 ranking. The memory makers are forecast to move up two spots in the top-10 ranking with SK Hynix occupying the third position and Micron moving up to fourth.
Consolidation in the memory business has left three companies — Samsung, SK Hynix and Micron — with a combined 95 percent share of the world market.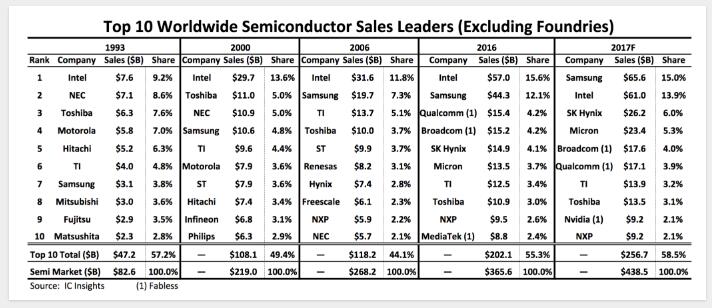 The outlook for the memory makers continues to be bullish as DRAM prices are expected to increase about 10 percent in the fourth quarter largely due to strong demand in the mobile DRAM market.
Nvidia, which is forecast to register a 44 percent increase in sales this year, is expected to replace MediaTek in IC Insights' top-ten rankings. Nvidia is riding on a wave of strong demand for chips used in artificial intelligence applications. The 2017 sales of mobile phone-chip maker MediaTek are expected to drop by 11 percent from a year ago to $7.9 billion.
The IC Insights' rankings do not include chip foundries such as Taiwan Semiconductor Manufacturing Co. or Global Foundries.
For 2017, the top-10 companies' share of the worldwide semiconductor market is expected to increase to 58.5 percent, up from last year's 55.3 percent. If the 2017 forecast comes true, the top 10 companies would hold the largest market share since 1993.
Merger and acquisitions that are pending approval may shake up the rankings.
For example, if Qualcomm and NXP's expected sales for this year were combined, the companies' 2017 revenue would be $26.3 billion, enough to place the combined entity into third place in the top-10 ranking, according to the IC Insights report.
However, Broadcom has also announced its intention to acquire Qualcomm, which could also change the future top-10 ranking, according to the report.
Potential mergers and acquisitions over the next couple of years may play a significant role in future rankings, according to IC Insights.