New Lines to Fuel Semiconductor Production Expansion
An infusion of new semiconductor manufacturing lines — particularly for DRAM memory — is forecast to drive an above average increase in total industry wafer capacity in 2018 and 2019, according to market research firm IC Insights.
Wafer capacity is projected to grow by 8 percent in both 2018 and 2019, higher than the roughly 5 percent average yearly growth for the industry between 2018 and 2019, according to IC Insights' most recent report on global wafer capacity.
A shortage of both DRAM and NAND flash memory capacity last year drove prices increases that pushed broader semiconductor industry sales about $400 billion for the first time. According to the World Semiconductor Trade Statistics organization, memory revenue increased by 61.5 percent last year, with DRAM sales growing by a 76.8 percent and NAND sales increasing by 47.5 percent.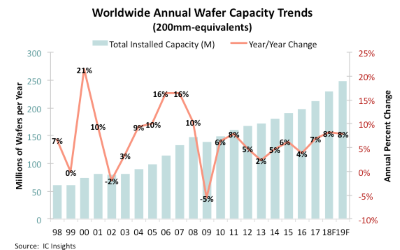 South Korea's Samsung Electronics and SK Hynix both plan to boost DRAM capacity and 2018 and 2019, IC Insights said. Those companies, in addition to Micron, Intel, Toshiba and China's Yangtze River Storage Technology all plan to significantly ramp up 3D NAND flash capacity over the next few years, the firm noted.
Between 2017 and 2022, wafer capacity increase is forecast to increase by 6 percent per year, according to IC Insights.
If the new capacity planned for 2019 happens as planned, the volume of semiconductor manufacturing capacity added that year will approach the record set in 2007, 18 million wafers, IC Insights said. This estimate assumes that NAND capacity being built in China will happen slower than expected, as IC Insights believes, the firm said.