CMOS image sensor market to grow 10.1 percent in 2019
Yole estimates the 2018 market for CMOS image sensors at about 15.4 billion and 2019's market at $17 billion. This contrasts with Yuanta Financial Holding Co. Ltd. of Taiwan who have forecast 13.1 percent growth for the market from $13.7 billion in 2018 to $15.5 billion in 2019 (see Sony took half the CMOS image sensor market in 2018).
It ranks Sony as the market leader followed by Samsung, OmniVision Technologies, On Semi, STMicroelectronics, Panasonic, Canon, and SK Hynix in that order.
CMOS image sensor sales have been driven in recent years by increasing numbers designed into smartphones; both forward and rearward facing.
"New use-cases linked to social media began fueling the need for high-quality rear, world-facing cameras for photography, quickly followed by front, selfie cameras for videos and top-grade photography," said Pierre Cambou, principal analyst at Yole, in a statement.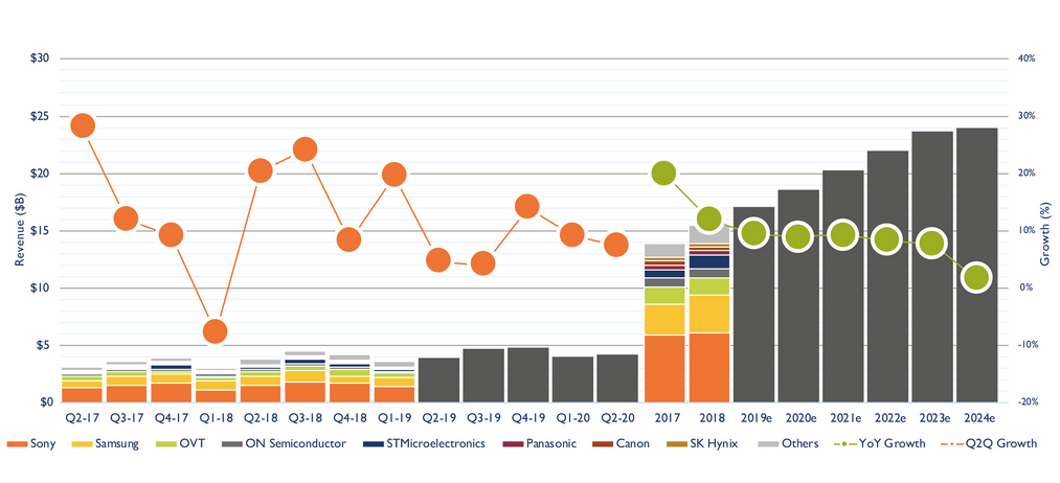 CMOS image sensor market in dollar-billions broken down by sales volume and with forecast through to 2024. Source: Yole Developpement.
Cambou added: "In 2019, 3D rear cameras are pushing the trend further to the back, improving the photographic experience and making inroads into AR applications."
Smartphone sales volumes are flat but the number of CMOS image sensors continues to increase towards an average of about 2.5 image sensors per phone; some with considerably more. The growth rate for CIS attachment will rise from 6.5 to 7.8 percent from 2019 to 2021, according to Yole.
Mobile phones account for 70 percent of all CIS sale, so good growth augers well but other applications such as security, and automotive are experiencing double-digit growth.