Worst results since 2009 for semiconductor market
IHS Markit has estimated that chip sales in the first half of 2019 dropped by 13.9% over a year earlier, the largest fall in a half since the first half of 2009.
In that period, chip suppliers saw their worst revenue declines in years, while product areas also saw the largest drops in a decade.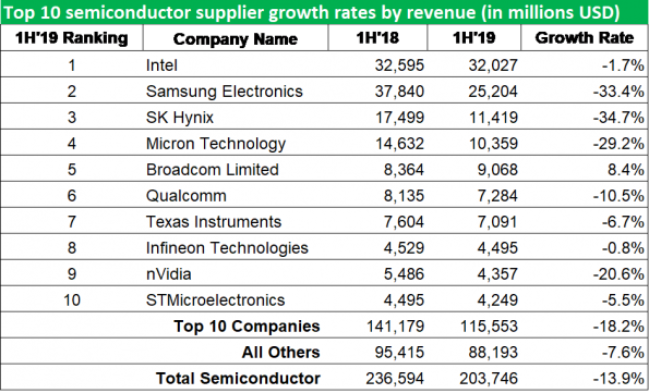 Global semiconductor revenue was $203.7 billion, down from $236.6 billion in the first half of 2018 – the largest fall in revenue since the market dropped by 26.5% in the first half of 2009.
"It's hard to overstate how bad things were for semiconductor suppliers in the first half," said Ron Ellwanger, senior research analyst at IHS Markit. "Every region, almost every product category and nearly every application market suffered declines during the period. As a result, nine of the top-10 chip suppliers and 17 of the top-20 suppliers saw their revenue drop during the first six months of the year. From just about any perspective, the first half represented the worst six-month performance for the semiconductor market in a decade."
SK Hynix saw the biggest fall in the first half out of all the top ten suppliers with a 34.7% drop. Samsung was close behind, with a drop on sales of 33.4%. Micron saw the third-biggest revenue decline, with a drop of 29.2%. The memory segment fell by 36.4%—the worst decline of any major product category.
Outside the memory market, nVidia's revenue fell by 20.6% with competition growing in the AI GPU market. Qualcomm's revenue dropped by 10.5% due to the oversaturated cell phone market. Intel managed to mitigate its losses, posting a 1.7% decline due to its strong results in the wireless and industrial markets.
Other sectors showing 10-year records in terms of revenue declines include logic, sensors and actuators.
Microcomponents were down 4.2%, logic ICs fell by 4.8%, analogue ICs declined by 6.1%, discretes decreased by 1.9% and sensors and actuators fell by 2%. Optical was the only area to expand, with revenue rising by under 1%.
The American region saw revenue falling by 20%, followed by Asia-Pacific down by 14.4%, Japan's 13.3% and Europe's12.6%.
The IHS Markit Competitive Landscaping Tool CLT - Annual - Q2 2019 report provides detailed coverage of the worldwide semiconductor market by company, product category, application market and region.