Wireless power chip market predicted for large growth
Market for wireless power chips to top 2bn units by 2023 with large growth in automotive
Global shipments of wireless power receivers (Rx) and transmitters (Tx) are set to more than triple from 2018 to 2023, according to IHS Markit | Technology.
Combined Rx and Tx shipments will rise to 2.1bn units in 2023, rising at a CAGR of 28.2 percent from 611 million in 2018, as reported by the Wireless Power Market Tracker – Q1 2019 report from IHS Markit | Technology, which is now a part of Informa Tech. The expansion is driven by broad-based demand from multiple markets, including wearables, computing, medical, smart homes, kitchen appliances, power tools, robotics, industrial, infrastructure, electric vehicles and automotive in-cabin systems.
However, applications in the automotive sector including electric vehicles and in-cabin systems, will generate the robust growth rates in the wireless power segment. Rx shipments for automotive applications are set to rise by 42.7 CAGR from 2018 through 2023, while Tx shipments will increase at a 44.4 percent rate during the same period.
​Within the automotive market, the electric vehicle segment will generate the greatest increase in demand, with shipments of Tx devices in EVs increasing at a CAGR of nearly 50 percent from 2018 through 2023. In EVs, these devices are used for wireless charging systems for car batteries. Wireless charging systems offer greater convenience and ease of use to EV owners, with the charging conducted by a charging mat placed on the ground.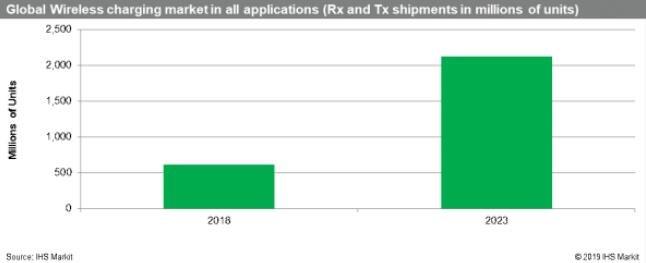 "The way that people, goods and vehicles get from one place to another will change dramatically over the next two decades," said Dinesh Kithany, lead industry analyst, wireless power and power supplies, at IHS Markit | Technology. "Driven by technological changes, along with a combination of economic factors and new policies and regulations, EV sales are set to show robust growth. Recent announcements confirm there's a fleet of automotive manufacturers with launch plans for electric vehicles. Wireless charging technology will play a critical role in this growth, making the process of charging EVs dramatically easier and increasing their appeal to consumers. The speed and process in which EVs would be charged at home, offices, petrol stations as well as at charging points would differ, and the trick is how to fit in the ecosystem such that both consumers and businesses benefit."
Another key growth segment of the automotive wireless charging market is the in-cabin area, where the technology is used to replenish the batteries of consumer electronics products, including mobile and wireless devices. Shipments of Tx devices for automotive in-cabin devices will also increase at a CAGR of around 50 percent during the forecast period. Devices of different types and power ratings are expected to be charged inside the vehicles, in front row as well as at back rows, and different automakers are adopting different (transmitter) strategies in order to enhance the consumer experience, with an important aspect of integrating wireless power technology with other technologies within the car, Kithany added.
In-cabin wireless charging systems, be it portable stands or integrated pads, have been placed inside of cars since around 2013. The number has increased since then, particularly for higher-end cars. In general, automotive industry suppliers have been late adopters of wireless charging, as a new technology must be thoroughly studied for value, safety, integration, authentication, interoperability, and reliability before it is included in a product (cars) having 10- to 15-year lifetime. However, the automakers now appear to be catching up to the wireless charging wave.