​ST fleshes out Stellar automotive MCU features
STMicroelectronics has announced more details on how its new Stellar automotive MCUs ensure reliable and deterministic execution of multiple independent real-time applications.
Stellar can provide both determinism or virtualization as opposed to other processors where a choice is necessary.
Stellar Integration MCUs feature exceptional computing power to simplify the concurrent and deterministic execution of multiple-sourced software, while guaranteeing the highest levels of safety and performance for the next generation of connected cars. Stellar offers a state-of-the-art processor with hardware support for virtualization, quality of service settings, the ability to firewall peripherals, and perform resource separation at interconnect levels. These features have been developed to allow independent applications, or Virtual ECUs, to coexist in the same physical MCU by guaranteeing freedom from interference and secure compartmentalization of software functions while supporting concurrent multiple ASIL safety levels.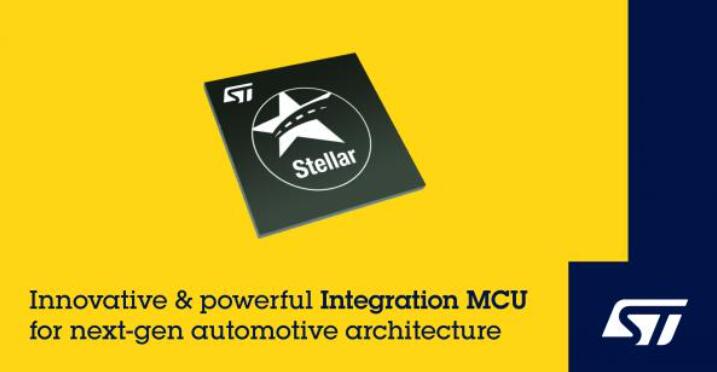 ST and Bosch partnered to develop the new technology.
We have set up Stellar's functionality to cover integration challenges, while maintaining isolation and compartmentalization," said Axel Aue, Vice President, Bosch. "The computing performance for this kind of system is outstanding, with Phase Change Memory performance equal to, or surpassing, that of alternative Flash technologies. Moreover, Stellar's performance concerning Firmware Updates Over-the-Air (FOTA) has been flawless with zero downtime and zero recovery time."
"We designed Stellar to meet the demands of future Domain/Zone architectures and service-oriented communication needs, setting aggressive real-time performance, safety, and determinism goals," said Luca Rodeschini, Strategy & Automotive Processors and RF Division General Manager, STMicroelectronics. "The setup, evaluations and validations performed by Bosch now provide expert confirmation, showing that our teams' integration of outstanding real-time performance, embedded PCM non-volatile memory, and comprehensive virtualization ensure efficient software isolation and compartmentalization that will add to consumers' safety and convenience in their vehicles."
Stellar embeds multiple Arm Cortex-R52 cores and offers a 2-level Memory Protection Unit and a low-latency Generic Interrupt Controller. The MCU is suited to hard real-time applications up to ASIL-D, specified in the automotive functional-safety standard, ISO 26262. The architecture also provides multiple powerful accelerators for secure data routing, processing, and mathematical functions, with advanced security support and extensive communication command and control.
The Integration MCU offers comprehensive virtualization at multiple levels using a Virtual Machine ID (VMID) at the network-on-chip and memory levels. Firewalls ensure complete separation at all interconnect levels including the peripherals. These firewalls allow Stellar to manage Virtual Machines (VMs) accesses and privileges to peripherals, ensuring the isolation of entire mission-critical functions.
Stellar Integration MCUs feature non-volatile Phase-Change Memory (PCM), offering fast read access times, and single-bit alterability that is not available in Flash memory. PCM ensures Over-The-Air (OTA) updates with zero down time, even for full-sized memory updates.