Global IC sales reach a new high of $565.1 billion in 2022
Global IC sales to reach a new high of $565.1 billion in 2022 Recently, IC Insights released the latest semiconductor industry rapid report predicting that the IC market will grow by 11% this year after a strong growth of 26% in 2021 and 13% in 2020 (Figure 1) . If the forecast comes to fruition, it would mark the first time in 25 years that the IC market has recorded three consecutive years of double-digit growth.
It is understood that the last time this growth occurred was in the 4-year period from 1992 to 1995.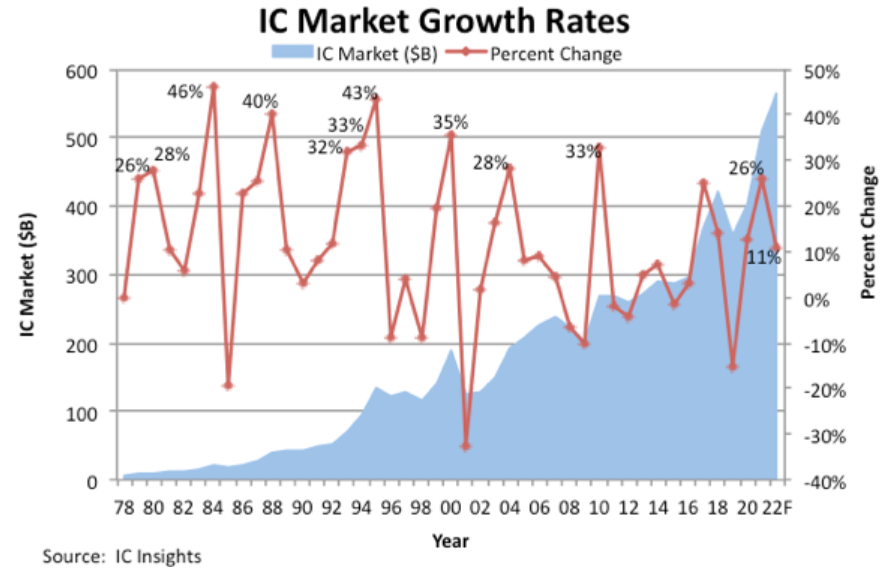 IC Insights believes that the IC market is still very resilient, experiencing a sharp decline of -15% in 2019, and the global COVID-19 pandemic in the first half of 2020 has left the market struggling with severe economic uncertainty. At the same time, the pandemic has led to changes in people's lifestyles, and individuals, businesses, educators and governments are increasingly turning to the digital economy, which also provides a catalyst for strong growth in IC sales in the second half of 2020 and 2021.
The 26% increase in 2021 is tied with 1979 and is the eighth-largest annual increase in IC sales since 1978, according to the agency. The IC industry grew 28% in 1980 and 2004, and 33% in both 1994 and 2010.
IC Insights forecasts that global IC sales are expected to grow by 11% this year to a new high of $565.1 billion, after topping $509.8 billion for the first time in 2021.