Infineon joins top 10 semicon vendor club
IC Insights has announced the top-10 worldwide semiconductor (IC and OSD—optoelectronic, sensor, and discrete) sales ranking for 1Q17. The list includes 4 suppliers headquartered in the United States, 2 in Europe, 2 in South Korea, and 1 each in Singapore and Japan.
Separately, the firm recently said analysts are expecting the OSD sector to reach $92 billion in sales by 2021 driven by fast-growing apps, such as solid-state lighting, machine vision, image recognition, smart-grid energy, IoT and multi-sensor "fusion" in intelligent portable systems (see that news here.
***Figure 1: *The top-10 semiconductor suppliers represented 56% of the 1Q17 worldwide semiconductor market of $99.6 billion. (Source: IC Insights.)
Intel, Samsung run neck-and-neck
Intel held a slim 4% lead over Samsung for the number one position in 1Q17. However, Samsung is on pace to displace Intel as the world's largest semiconductor supplier in 2Q17, said IC Insights. SK Hynix and Micron made significant moves in the 1Q17 ranking as compared to the full-year 2016 ranking. A recent growth in the DRAM and NAND flash markets, helped the companies move up two slots in the ranking with SK Hynix now occupying the third position and Micron in the fourth.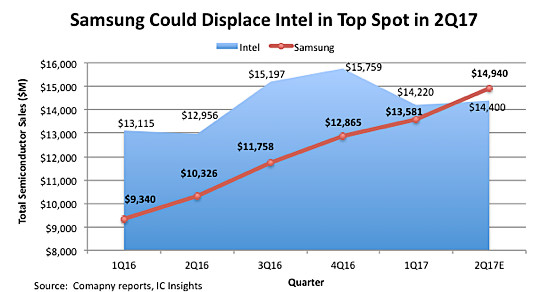 **Figure 2: ** Samsung is on pace to displace Intel as the world's largest semiconductor supplier in 2Q17. (Source: IC Insights.)
There was one new entrant into the top-10 ranking in 1Q17: Infineon Technologies. Infineon replaced fabless supplier MediaTek, whose 1Q17/1Q16 sales were up by 7% to $1.8 billion but the company suffered a sequential 1Q17/4Q16 sales decline of 17%. Half of the top-10 companies had sales of at least $4.0 billion in the first quarter this year. As shown, it took $1.9 billion in quarterly sales just to make it into the 1Q17 top-10 semiconductor supplier list.
IC Insights said the listing could change significantly in the wake of potential M&A activity expected this year. The market researcher has also forecast 2Q17 to be the first quarterly semiconductor market to cross the $100 billion mark.